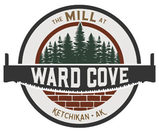 The Mill at Ward Cove is the site of the historic Ketchikan Pulp Mill, the longest operating pulp mill in Alaska, located just 7 miles north of downtown Ketchikan.

Completed in 1954 and operated until 1997, The Mill was the economic heartbeat of Southeast Alaska. Logs were harvested from the forest and transformed into usable products such as rayon, cellophane, explosives, pharmaceuticals, and even food additives. As we develop this destination The Mill at Ward Cove will again become an economic driver for the community of Ketchikan, creating year-round jobs for local residents as well as fun seasonal opportunities for non-residents.

As one of Alaska's newest cruise ship ports, The Mill at Ward Cove is fast becoming a major destination in Alaska. Our season runs from April to October. We provide our guests with a true Alaska experience at our Welcome Center with great retail opportunities including artisan kiosks, a full sit-down dining experience, and museum displays that showcase the history of logging and The Mill.

We operate a variety of adventurous tour options such as kayaking, hiking, sea cycle adventure, self-drive zodiac tour, and an e-bike tour. We also engage our guests with storytelling, live music, and other artistic attractions.

Employee Housing
Spend your summer on the historic MV Malaspina, the first ferry commissioned by the State of Alaska. Entertain guests during the day and explore Ketchikan, Alaska by bike or kayak on your days off. Have fun and meet new friends in this unique living environment.

We charge a flat daily rate of $15.00 per person per day deducted from your paycheck if you choose to stay in employee housing. The rate covers rent, utilities, cleaning of public areas, weekly laundering of towels and sheets (provided), and Wi-Fi in public spaces. Also includes use of bikes and kayaks. Dormitory-like housing with a cafeteria; most rooms are shared with at least one other employee and include twin beds and a private bathroom. Coin operated laundry is available on premises.

Employee Perks
We provide paid training at the beginning of the season and offer competitive pay, partially subsidized housing, and a fun team environment.

Sign-On Bonus: If signed-on prior to February 1, 2023, employee will receive $500 paid at the end of their contract
Retention Bonus: Employees will receive $1 per hour ($1.50 per OT hour) bonus at the end of their contract
Travel Reimbursement: Up to $300 travel reimbursement with receipts paid at the end of the probationary period (3 weeks)
Referral Bonus: Employees who refer other applicants that are hired and complete their contract receive $100 per employee, paid at the end of the season
Retirement: 401(k) dollar-for-dollar contribution match up to 6% of base salary, eligible after 1,000 hours of employment
Free tours and activities at Ward Cove on a space-available basis
Four complimentary tour tickets for friends and family, additional tickets may be purchased at the crew rate
20% discount in Ward Cove retail shop

Getting Here and Getting Around
Alaska Airlines offers multiple daily flights between Seattle and Ketchikan and the Alaska Marine Highway System (Alaska State Ferry) connects to Bellingham. It is the employee's responsibility to make their own travel arrangements; however, after one month of employment you will be reimbursed a travel stipend of up to $300 (must show receipts).
Job Application Instructions
For a full job description and to apply visit https://www.coolworks.com/the-mill-at-ward-cove/job-list
Contact Information
Contact
Human Resources
Administrative Coordinator
Ward Cove Dock Group dba The Mill at Ward Cove
7559 N. Tongass Hwy, Lower 118
Ketchikan, AK, United States 99901
Phone
907-228-7788
Email
hr@wardcoveak.com
Website
www.wardcoveak.com